The Countryside Code: Respect Everyone; Protect the Environment; Enjoy the Outdoors
---
What better way to enjoy and explore the Shropshire Hills than to go for a walk? The paths and open spaces will take you along river valleys, through pastures, meadows and ancient woodlands, around pretty villages, or over hilltops of rock and heather.
The Shropshire Hills probably has as many distinct individual hilltops as any area of England apart from the Lake District. We've compiled a list and brief description of these on our 50 Shropshire Hills page. If hill summits and views are what you're looking for, this will help you get off the beaten track to some less frequented corners, as well as covering our better known hills.
For self guided walks, click on the searchable walks directory button below. Some good 'search' words for walks in the AONB include Walking with Offa (waymarked pub walks); Shropshire Hills Discovery Centre; Bog Visitor Centre; Bridges; Church Stretton; Acton Scott; Bishop's Castle; Car-free walks (some years ago we devised a series of walks linking to our local public transport network).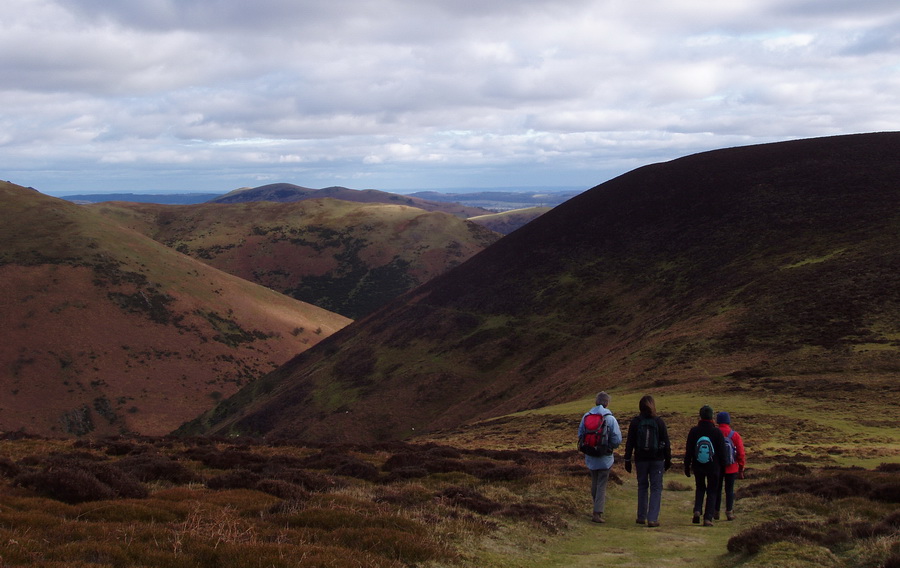 Easy walks around managed countryside sites
Easy access routes suitable for all abilities (including wheelchairs) at:
Onny Meadows, the Bog Mine and the Stiperstones National Nature Reserve.
Popular hills with a variety of routes include:
The Long Mynd is a large plateau of heathland supporting plants including heather and bilberry (known locally as whinberry), along with green hairstreak butterfly and hunting merlins. Pools and wet flushes add variety, along with the deep valleys with rock outcrops, hawthorn, gorse and short turf acid grassland. The hill top is crossed by the ancient Portway, and the Mynd is rich in archaeology including Bodbury Ring hillfort and Bronze and Iron Age monuments
The Stiperstones is a relatively wild, high ridge of heathland with rocky tors and scree, red grouse, ravens and stonechat. Much of the Stiperstones is a National Nature Reserve. The main car park is at the south end, where there is a 650m well surfaced All-Ability Trail. Close by is the Bog Visitor Centre for local information and café.
The Wrekin is Shropshire's iconic hill. Many people enjoy the steady climb through the lovely woods up the main path from Forest Glen to the open hilltop with spectacular views and the famous crag of the Needle's Eye. The summit holds an impressive Iron Age hillfort, and there are many former charcoal burning platforms in the woods, linked to early industry at Ironbridge.
Next to the Wrekin is the smaller hill of the Ercall, a Shropshire Wildlife Trust reserve with woodlands and dramatic geological exposures in the old quarry of the transition (an unconformity) between Precambrian and Cambrian rocks.
Bury Ditches (between Clun and Bishop's Castle) is one of the best preserved multi-vallate hillforts in England, and managed by Forestry England.
Wenlock Edge - a classic limestone escarpment, and at nearly 20 miles in extent, is one of the longest continuous woodlands in England. Views are enigmatic, and high points indistinct, but the Edge is a lovely place to explore.
Clunton Coppice - a Shropshire Wildlife Trust Nature Reserve with footpath running thrugh this ancient oak wood.
Bury Ditches - is one of the best preserved multi-vallate hillforts in England and a Forestry England woodland with trails through it.
Walcot Wood - a small remnant of ancient woodland, once part of a large Elizabethan deer park, and dominated by unusually shaped, 400 year old veteran oaks. Access from Bury Ditches car park.
Mortimer Forest, near Ludlow - large woodland managed by Forestry England with parking, picnic spots and walking trails.
The Shropshire Way works its way for 136 miles in a series of loops around many of the best bits of the Shropshire Hills and the rest of Shropshire. Well suited to walking in sections as an alternative to one big walk, a series of circular walks linking to the route have also been developed. A Harvey map of the Shropshire Hills part of the Shropshire Way is available and covers much of the AONB.
Offa's Dyke* Path National Trail is a 177 mile linear route between Chepstow and Prestatyn along the borders of England and Wales. About 11 miles of the Trail lies within the Shropshire Hills AONB, with some of the best preserved sections of the Dyke. You can find out further information on the National Trail website. For background information visit the Offa's Dyke Association website.
*Offa's Dyke is one of the longest linear earthworks in Britain, built by King Offa of Mercia in the 8th Century.
The Kerry Ridgeway runs for 15 miles as a bridleway along the ancient drovers' track from Bishop's Castle west to the Cider House in Powys, Wales. The route is highlighted on the Ordnance Survey Explorer maps (216 and 214).
Walking Festivals & Walkers are Welcome
If you want company on your walk, we have a choice of annual walking festivals to join:
Church Stretton, Bishop's Castle, Clun, Cleobury Mortimer, Knighton, Wellington and Much Wenlock have been designated "Walkers are Welcome" towns. This highlights the excellent facilities on offer for walkers. All have a variety of waymarked walks and leaflets, which will guide you into the surrounding countryside.
You can of course find your own way!
The Shropshire Hills has extensive networks of rights of way and plenty of designated open access land. The 1:25,000 Ordnance Survey Explorer maps show rights of way and open access land, and are easier to navigate from than smaller scale maps as they show field boundaries. Click link for details of permissive access linked to farm conservation grants.

Geocaching – Walking with a Difference
Use a hand-held GPS (Global Positioning System) to find 'caches' which have been carefully placed. There are three specific geocaching trails in the Shropshire Hills and many other caches.
GPS units are available to hire from the Shropshire Hills Discovery Centre at Craven Arms.