The Countryside Code: Respect Everyone; Protect the Environment; Enjoy the Outdoors
---
The Shropshire Hills aren't so much a place for the extreme end of some outdoor activities, but there are plenty of challenges to be found in beautiful uncrowded surroundings.
You're spoilt for choice with a series of great horse rides taking you across open moorland, through wooded valleys and along quiet country lanes.
Blue Remembered Hills Bridleway, a 38 mile circular trail around Clun and Bishop's Castle.
The Jack Mytton Way, this bridleway travels for nearly 100 miles through the Shropshire Hills from Cleobury Mortimer to Llanfairwaterdine, published in sections in 8 leaflets.
Ride UK – Shropshire Hills, this is a series of 10 interlinking routes which extend from Wenlock Edge, across the Long Mynd to the Stiperstones. The routes vary from between 8 and 22 miles and follow bridleway, byways and quiet lanes.
For information on riding centres, riding holidays and routes visit Shropshire's Great Outdoors - Horse Riding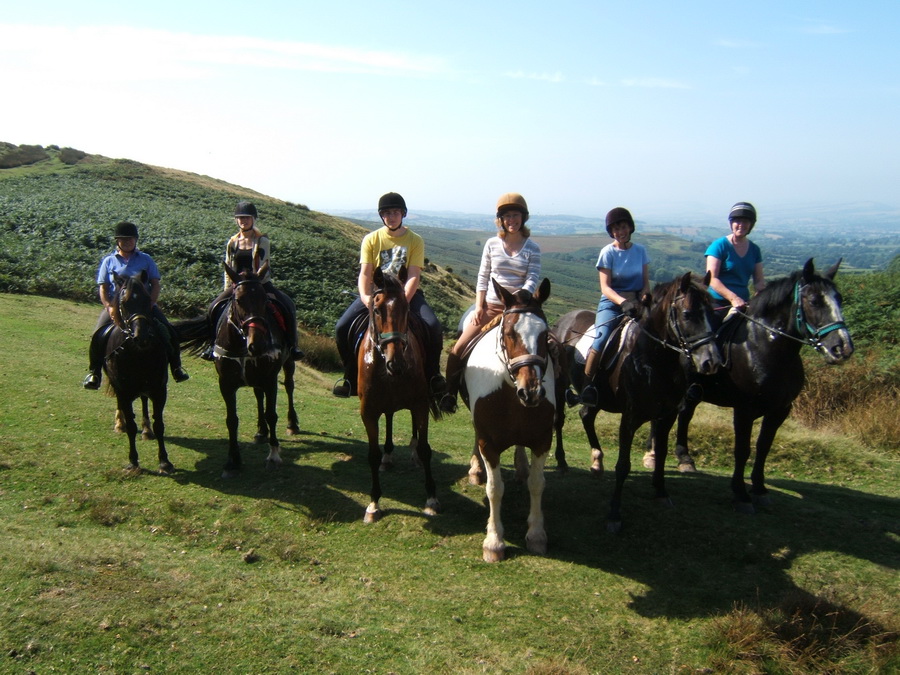 Other activities
Air Sports The Long Mynd is a renowned and well established location for gliding and paragliding, with several clubs catering for different activities. Hot air ballooning is also offered by several companies in Shropshire.
Archery The Long Mynd Archers Club are based at Church Stretton.
Canoeing The River Severn runs through the AONB between Cressage and Ironbridge and is passable by canoeists. The river has a right of navigation, but access and launching points are limited (Atcham or Shrewsbury, see River Severn Navigation). A number of companies offer hire or excursions.
Climbing There is some limited rock climbing at Earl's Hill (known as Pontesford Rocks) owned by Shropshire Wildlife Trust, and at Ippikins Rock at Wenlock Edge owned by the National Trust. The Stiperstones has some good short scrambles but note that roped climbing on the National Nature Reserve is by permit only from Natural England and not encouraged. Local clubs include Shrewsbury Mountaineering Club and the Wrekin Mountaineering Club.
Duke of Edinburgh's Award expeditions The Shropshire Hills are popular with DofE groups, offering hill walking at the less challenging end of the spectrum.
Fell running The Shropshire Hills are great terrain for fell running and are popular for both recreational running and through regular races open to all levels of runner (see Mercia Fell Runners). The Long Mynd and other hills have sensitive and fragile areas of wet ground which can be damaged by repeated use. The National Trust is working with the fell running community to minimise these problems.
Challenge Events
The Long Mynd Hike – 50 miles within 24 hours, usually in early October, organised by the 2nd Long Mynd Scout group.
The Wistanstow Challenge – 26 miles, usually in September, organised by the Long Distance Walkers Association.
Shropshire Way 80K– four events hosted by the Shropshire Hills Discovery Centre; the 3.5km fun run, the off-road Tusker 10k, the Mammothon trail marathon and the flagship SW80K.
Fishing A number of places offer ticketed pool fishing including Betchcott fishing lake near Picklescott.
Geocaching Walks and exploring with a modern twist, may help to interest technology-focused children in the outdoors! Use a satellite GPS unit to find hidden caches and discover their contents. Several trails and GPS hire are available from the Shropshire Hills Discovery Centre.
Golf There are golf courses at Church Stretton, Cleobury Mortimer and Elm Lodge, Ludlow.
Activity Centres at Much Wenlock, Culmington and Marshbrook.
Wild Swimming The pleasures of taking a cold water plunge in a natural place are regaining popularity, and if you ever do this, you'll know why. You obviously need to make your own sensible judgements about safety, water quality and whether you need any permission. Please also bear in mind the important wildlife value of many water bodies. Other websites suggest some locations in the Shropshire Hills, but part of the joy of wild swimming is finding the often rather secret places, so we aren't listing any here. Enjoy immersing yourself in our natural beauty!
No responsibility is held for external links.