The Countryside Code: Respect Everyone; Protect the Environment; Enjoy the Outdoors
---
Whether you're looking for a gentle cycle or more challenging rides, the Shropshire Hills is a great place to be on a bike. Quiet country lanes wind through gentle valleys or over sweeping hilltops with amazing views.
Easier Rides can generally be found around the fringes of the Shropshire Hills. Finding your own way with a map is fun and not too difficult. If you prefer following a defined route there are plenty to choose from. A couple of good easy ones are:
The Lady Halton Loop – a family friendly 7 mile circular ride along quiet lanes and tracks exploring the countryside around Ludlow.
To The Edge – (Route 1 in the Church Stretton Cycle Rides leaflet) goes past Acton Scott Historic Working Farm to Wenlock Edge and back (14 miles), and offers a spur to Craven Arms, with the option of returning by train.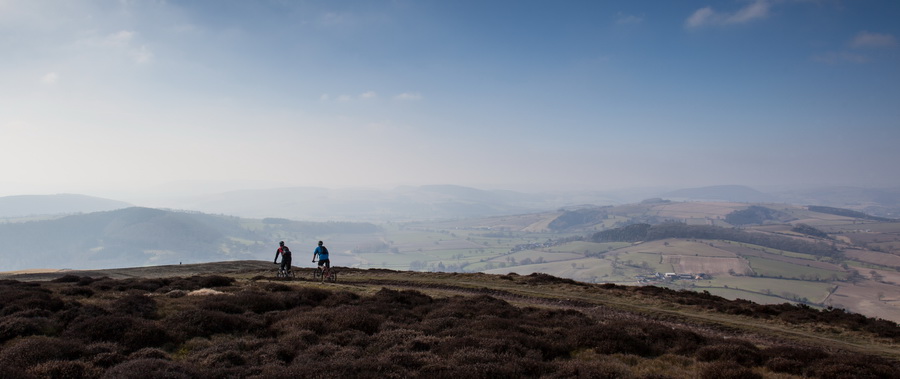 Road Routes start and finish in the following Shropshire Hills towns (from 8 to 30+ miles):
Church Stretton Bishop's Castle Ludlow Cleobury Mortimer Craven Arms
Gentler routes include the Roman Road from Church Stretton to picturesque Acton Burnell, or the lovely Teme Valley near Ludlow. The longer routes take in some of the more challenging highlights of the Shropshire Hills, including the high ridges of the Clun Forest, the plateau around the Clee Hills, and if you can make the climb, the Long Mynd.
click here for searchable directory of cycle rides
Off-road & Forest Mountain Bike Trails
We have some excellent off-road and mountain biking to suit all abilities. Easier rides include the Portway along the top of the Long Mynd and the Jack Mytton Way along Wenlock Edge. The Long Mynd also has a great variety of tracks and 'natural singletrack' trails. It is a sensitive area for conservation, managed by the National Trust, so please follow only approved routes, which offer plenty to go at.
Hopton Wood near Craven Arms is a prime mountain biking site which hosts national level competitions, and has both cross-country and serious downhill trails.
Eastridge Woods near Pontesbury has a short easy loop, a longer difficult red route (the Revelation Trail), plus some serious downhill runs.
There are also off-road cycling trails at Mortimer Forest and Bury Ditches.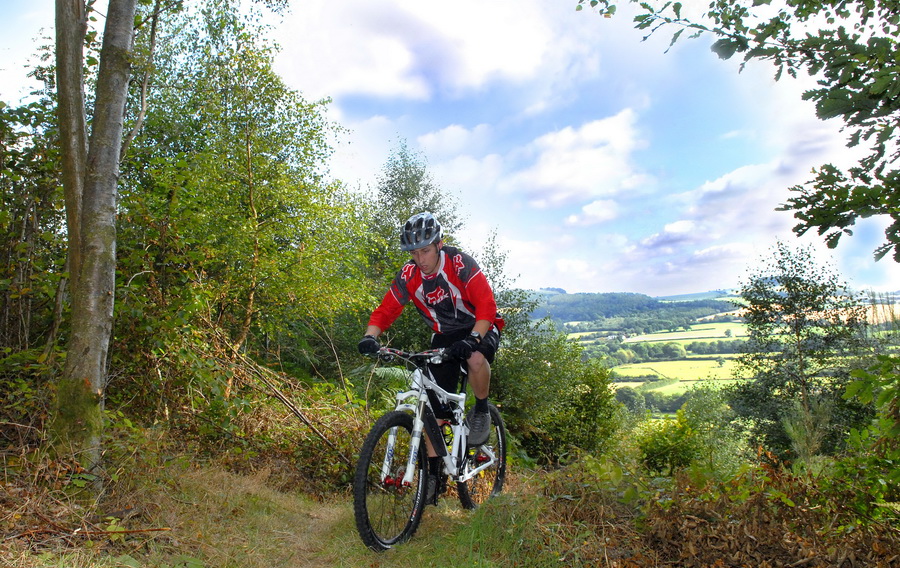 When biking off-road in the Shropshire Hills, please be considerate to other users and look after the countryside:
Keep your speed under control and give way to walkers and horses
Keep to legal routes – bridleways and permissive routes
Protect plants and habitats by not riding over them
Look out for wildlife and livestock
Take your litter home
Close gates behind you
Don't dig your own trails
The Six Castles Cycleway is a 58 mile signed route between Shrewsbury and Leominster forming Route 44 in the National Cycle Network. It passes along the edge of the Rea Valley and into Wales, before heading back through Bishop's Castle, over some hills to Craven Arms, then Ludlow and on south. It links six very different castles, from the romantic ruins of Bishop's Castle and Richard's Castle to the substantial stone buildings of Shrewsbury, Ludlow and Croft Castles and the elegance of Stokesay.
Land's End to John O'Groats. The Shropshire Hills are passed through by many of the popular 'end to end' routes. The challenge of this 800+ mile ride often mean that riders forego the quiet beauty of the countryside in favour of speedy progress on busier main roads. If you do choose to use the A49 take great care, and think about coming back some time for a more pleasant exploration of the Shropshire Hills!
The Cyclists Welcome Scheme lists accommodation and refreshment providers who are specifically geared up to welcome cyclists. There are a variety of local companies offering bike hire in and around the Shropshire Hills, see the VisitShropshireHills cycling page.
Events and Other Useful Links
Cycle Shropshire – local group of the Cyclists' Touring Club, run regular leisure rides from a variety of nearby places.
Mid-Shropshire Wheelers – Well established cycling club, with a focus on racing.
Shropshire Hills Cyclist – blog guide to a good selection of road cycle climbs in the Shropshire Hills, plus links to events and group rides.
Bikeability in Shropshire – instruction scheme on cycling. Mainly for children, but with opportunities for adults too.