The AONB network nationally has pledged that by 2030 at least 36,000 ha of new woodland will be planted or allowed to regenerate in AONBs following the principle of the right tree in the right place.
Here in Shropshire Hills we have a higher than the national average tree cover, but we still need to do our bit. We need to connect and restore what woodland we already have – MORE, BIGGER, BETTER and JOINED.
Planting small woodlands and hedgerows will help to conserve soils, improve water infiltration and help in building a joined-up network of habitats that allow wildlife and people to thrive.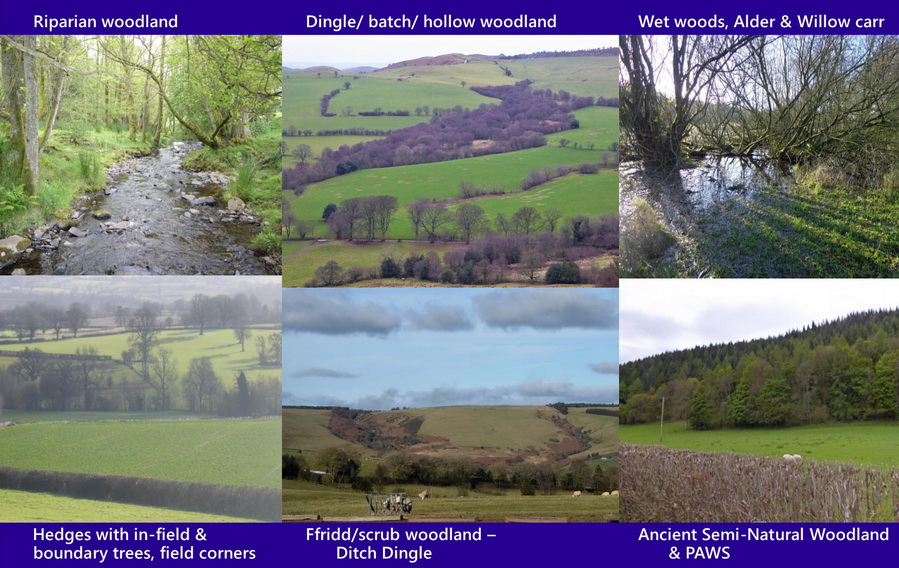 The right tree in the right place
Tree planting is an important tool in fighting climate change and can be beneficial for wildlife but it's essential this is done in the right way otherwise it can actually be harmful. When selecting a site for planting trees its important to consider the woodland type you wish to create, restore or buffer.
This is especially important in the Shropshire Hills with its diverse topology and geology. The links below will give you some information about woodland types in the AONB, opportunities for new planting and suggested species.
This list is suggested and should be assessed in the context of local conditions eg aspect, soil type, climate etc..
Before planting any trees, it is important to assess what type of habitat is to be planted. There should be no loss of priority or protected habitat. For example, planting trees on or near to wildflower rich meadows – the principle should be biodiversity gain, not reduction.
Stand in the area you want to plant and look at the types of trees that are already growing there. This should tell you which trees do well in your chosen location.
Try to plant a mix of trees to create a canopy and shrub layer which is good habitat, and it's good to mix fast growing trees with the slower growing ones eg mix rowan and oak. Fruiting trees are good for wildlife.
There is lots more tree planting advice on the Woodland Trust website.
Local provenance or not?
The rate of climate change we are facing is unprecedented; there is a risk that natural selection processes may not be able to keep pace with environmental change.
Reliance on local seed stock may compromise long-term survival, so an approach using a mix of natural regeneration, stock from local provenance regions 403 or 304, and more southerly provenances is recommended to help to spread the risks associated with climate change.
We have over 1000km of watercourse in the Shropshire Hills. They are a continuous thread in the landscape, linking uplands and lowlands. They are characterised by trees that are adapted to wetter environments. Common alder is usually dominant, with lesser numbers of crack willow, ash and native black poplar. Understory is typically hazel dominated with hawthorn and holly.
New tree and shrub planting will help to strengthen these linear woods by creating wider buffers, infilling river meanders and connecting upstream and downstream woodlands.
Suggested trees to plant:
for the canopy (taller trees) - common alder, crack willow, native black poplar
for the understorey (shrubbier trees) - goat willow, grey willow, alder buckthorn, hazel, hawthorn, holly
Examples in the Shropshire Hills: Widespread (rivers Clun, Onny, Corve etc)
---
Dingle/batch/hollow and upland woodlands
Snaking up valley sides, dingle woods are common features of the Shropshire Hills, leading the eye from the valley floors to the uplands. These woodlands are often fragmented so there are opportunities for new planting to connect dingle wood to valley floor woodland, creating woodland corridors for wildlife. New planting could also extend dingle woods to help re-naturalise headwaters. Fallen trees often lie across the woodland floor to create valuable in-channel deadwood habitats which act as natural flood barriers to "slow the flow".
Similar to riparian woodland, common alder and hazel are the dominant streamside trees. In damper areas, downy birch and willows may establish. Lowland dingle woodland may be characterised by other broadleaves such as oak, ash and beech. Upland dingle woodland may overlap with frith habitat (see below)
Suggested trees to plant:
In wetter areas - common alder, wych elm, downy birch and willow sp.
In the drier areas - sessile oak, rowan, silver birch
Examples in the Shropshire Hills: Cwmmawr Dingle
---
This is transitional open scrub/ woodland habitat forming an upland fringe. It's often on steep slopes at the boundary between enclosed farmland and unenclosed uplands. This land is often less productive as it is difficult to manage so planting new trees is a good option. Natural regeneration may be more effective but will require limited grazing to allow the area to 'scrub up. Where this is not possible planting new trees here is a good option, but trees will need protection.
Suggested trees to plant:
Rowan, birch, holly, hawthorn
Examples in the Shropshire Hills: – Ditch Dingle, upper Teme Valley
---
Wet woods – alder and willow carr
Wild, boggy and rare. Wet woodlands are some of our least common wooded habitats. They are characterised by large amounts of fallen deadwood and peaty soils and they are important carbon stores. There are opportunities for new planting on low gradient watercourses and ditches as "slow the flow" schemes. Where water is encouraged to spread out you could consider planting trees and adding large woody debris.
Suggested trees to plant:
Common alder, grey willow, goat willow, crack willow, native black poplar – downy birch on fringes
---
Parklands are designed landscapes often associated with great houses and estates It is a landscape managed though grazing and in addition to native trees may contain non-native or naturalised trees.
Suggested trees to plant:
Native trees - Sessile oak, English oak, beech and lime
Naturalised trees - horse chestnut, sweet chestnut, sycamore and walnut
Examples in the Shropshire Hills: Linley, Walcot or Millichope
---
Many upland woods have traditionally been grazed by livestock. Wood-pasture is open, wooded land, often associated with grassland or heathland habitats with mature or veteran trees which may have been managed by pollarding. Some started as medieval hunting forests or wooded commons.
Suggested trees to plant:
Native trees - Sessile oak, English oak, rowan, silver birch, downy birch, willow sp., holly, hazel
Examples in the Shropshire Hills: Brook Vessons Nature Reserve
---
Hedges with in-field and boundary trees, field corners
Hedges and field trees contribute to the wooded character of valley floors. - Patterns relate to the historic enclosure of fields. Analysis of historic maps show that many km have been lost from the landscape, and many km of hedgerow are relict. Tree planting opportunities include gapping up or hedgerow restoration.
Suggested trees to plant:
Hedgerow trees - English oak, sessile oak, beech, lime sp., field maple, wild cherry, wych elm
Hedging - hawthorn, hazel, blackthorn, holly
Other species to consider (low %) guelder rose, spindle, crab apple, dogwood, elder
---
Lowland woodland is the dominant woodland of the Shropshire Hills. Occurring at relatively low altitudes and on a broad range of soil types. They may be ancient in origin with evidence of past coppicing or grazed wood pasture.
Species composition tends to a particular soil type and/or past management, for example mixed ash woodlands of Wenlock Edge on neutral or alkaline soils and at Clunton Coppice sessile oak dominated woodland characteristic of acidic soils.
Suggested trees to plant:
English oak, sessile oak, beech, lime sp., field maple, wild cherry, wych elm, hornbeam, birch
Understorey - hawthorn, hazel, blackthorn, holly
Examples in the Shropshire Hills: Clunton Coppice and Harton Hollow
---
Ancient semi-natural woodland and PAWS
PAWS are sites that have a long history of woodland cover. They are ancient semi-natural woodlands on which the original, "natural" woodland was cleared, and replaced by a plantation of either native or exotic species. A substantial proportion of PAWS are either under restoration or likely to be restored over the next 20-30 years.
Examples in the Shropshire Hills: Bucknell Wood - 131ha of Ancient Replanted Woodland