Shropshire Hills AONB Trust
We have raised £23,000 to fix Caer Caradoc's worn-down ramparts.
We would like to thank HF Holidays, local people, Evans Construction Ltd and volunteers for their help to complete the Fix the Fort Project. HF Holiday's generous donation helped us meet the costs of protecting the ramparts from future erosion and repairing existing damage.
We would also like to thank the landowners and Historic England for their support throughout.
Caer Caradoc stands in the heart of the Shropshire Hills and is very popular with visitors from near and far. This iconic landmark gets its name from its link to the legendary warrior prince Caradoc, who rebelled against the Romans in the first century AD. Decades of wear has left its mark on the ramparts of this popular viewpoint.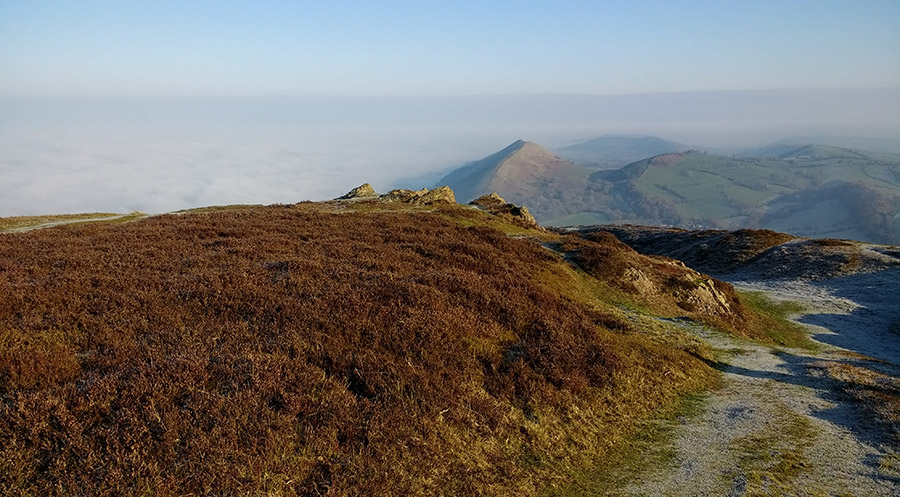 The £23,000 raised for the project came from £4,000 in direct donations and £10,000 funding from HF Holidays, matched with a Farming in Protected Landscape Grant. Officers from the AONB Partnership team oversaw the works, and supervised contractors and volunteers on site.
The work was conducted in phases:
1. Archaeological assessment of the hillfort - the report found that the ramparts had been constructed in layers or local rock, overlaid with earth, built up like a cake. The outer ramparts may also have been faced with stone, but this was not confirmed through the investigation.
2. Helicopter uplift - we used a helicopter to lift the sixty tonnes of soil and gravel, needed to make the repairs, to the summit.
3. Work on site was delayed due to very wet weather. The northern erosion scar was repaired first, just before Christmas 2022
4. The southern scar and eroded rampart on the eastern side of the hillfort was repaired in February 2023.
5. The repairs were reseeded in spring 2023 and monitored through the summer.
To continue to support this and other work, you can make a donation to the Trust...
Please download and print the Gift Aid Declaration (see below). Please send cheques to Shropshire Hills AONB Trust, Unit 9, The Auction Yard, Craven Arms SY7 9BZ
Gift Aid: Gift Aid boosts your donation by 25p for every £1 you donate. If donating by cheque please download and print the Gift Aid Declaration for cheque payments and send it with your cheque. If donating online or by text, you will be sent a link to Gift Aid registration.
If you would like to make a regular donation by BACS to the AONB Trust, please contact us about Friends of the Shropshire Hills membership or Business Supporters Scheme.
Thank you for your support.
---
The Shropshire Hills AONB Trust, Registered Charity no. 1168432